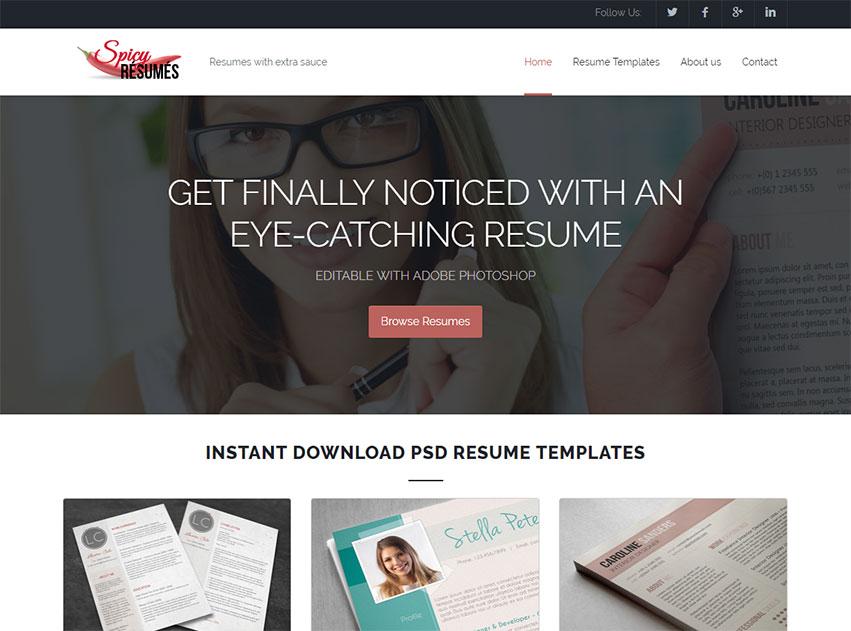 Spicy Resumes: A New and Exciting Way to Design Your CV
Countless template providers can be found around the web, but the problem is that many of their designs are too commonplace. Spicy Resumes claim to offer a solution to this problem by capturing the attention of recruiters through special CV designs. Sounds promising, but can they really put an applicant at the top of the heap? Let's find out in this review.
Simplified website
On first impression, their homepage effectively communicates what they can bring to the table. In comparison to other template providers, their website has a one-of-a-kind feel and differentiates itself from the overly used themes and motifs usually found on the web. It's not over-the-top, but it does command attention which I found really amusing. The gallery was also very stylish and presentable thanks in part to the great rendering of the templates. It felt I was browsing a creative portfolio with an enticing preview of all the digital layouts on paper.
Superior quality designs
Their finely crafted resume templates are incredibly eclectic, with a generous use of colors and graphical elements that are sure to make an unforgettable impression. Everything on offer is quite sleek, modern-looking and very stylish. What's more, some packages come with templates for business cards and cover letters to add a personal branding effect. Some of my favorites include Flavorful Celery Seed, Piquant Pumpkin Pie Spice and Fresh Fusion of Flavors.

Affordable and competitive pricing
The cost of purchasing a template ranges from $7 to $9 which I found very reasonable. In fact, their fees are only a fraction compared to typical template prices online. I also discovered that Spicy Resumes regularly holds special promotions where you can download their products and packages at discounted prices. Make sure to watch out for these campaigns!
Easily editable file format
The requirements are all listed in the text file that is included in the package. The template is in PSD format and can be edited using Adobe Photoshop CS4 or higher. When it comes to required fonts, there are no setbacks as most typefaces can be downloaded for free and can easily be found on the internet.
Spicy Resumes has done a wonderful job providing creatively designed resume templates that are sure to attract attention. They may only have a portfolio of 30 designs, but each layout has the ability to substantially increase the chances of any applicant and win the approval of headhunters.