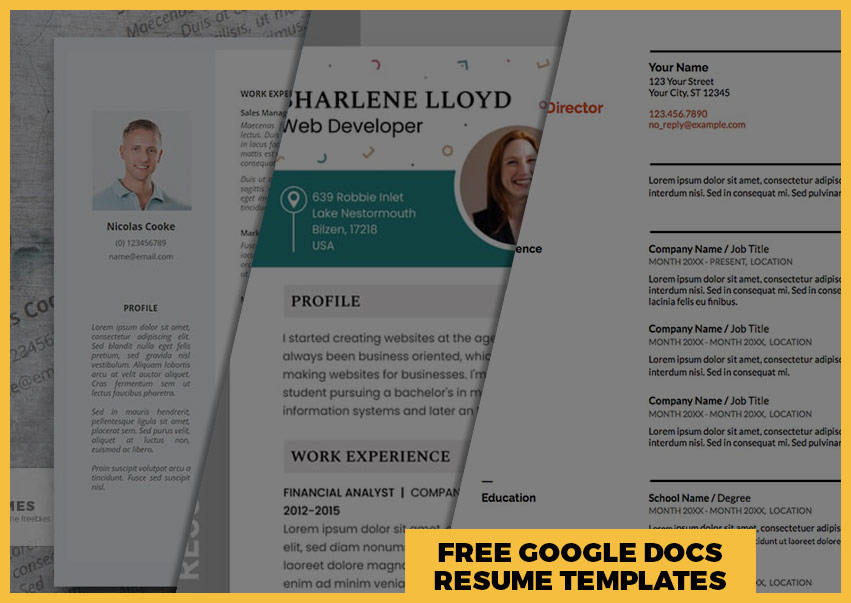 12 Free Resume Templates for Google Docs to Snatch Now
A great template is your secret weapon to writing your resume 2X faster. Why? Because you don't need to agonize over the section's layout or search for a good-looking and readable font pairing. The hard "visual" work is already done for you!
Below is a curated list of free Google Docs resume templates our team found and vetted. Each comes with an effective, professional, and HR-friendly layout, magnified by aesthetical appeal!
1. Baio: Modern Google Doc Resume Template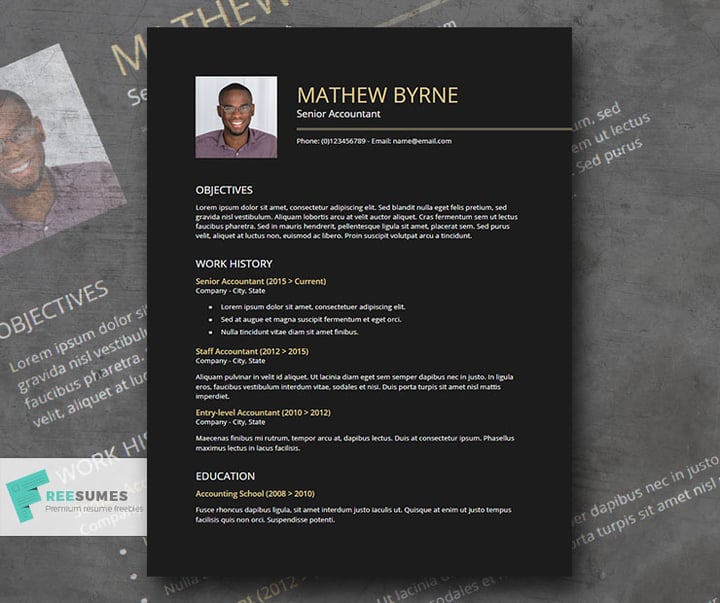 We've decided to kick off this list with a less traditional resume design. Featuring a black background and yellow secondary color for text highlights, Baio template from Freesumes is a rare combination of elegance and effectiveness. You have ample header space to fit in your headshot, contact details, and a professional title. Plus some extra room for a formal resume objective or a resume skills summary and your career progression details. 
2. Best Resume: Free Google Template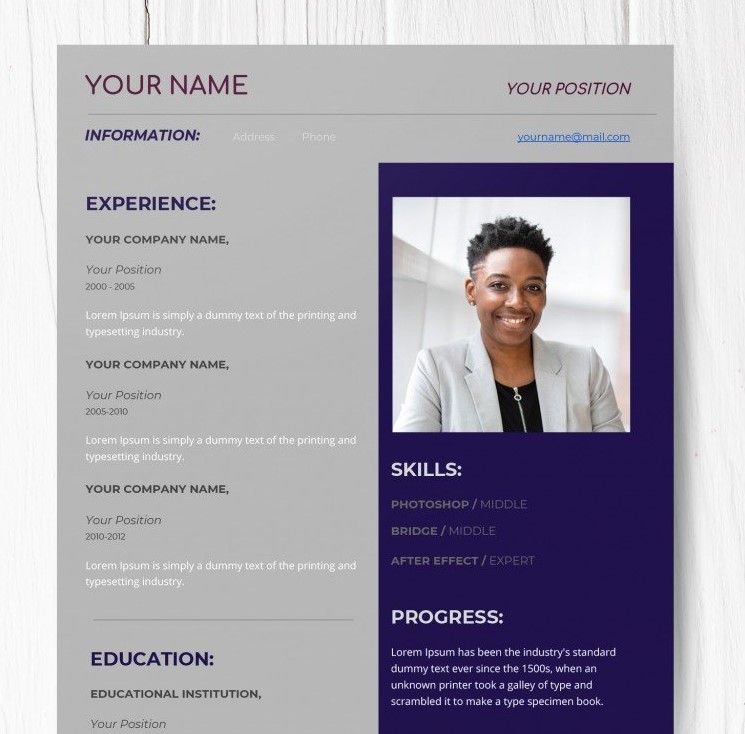 If you are looking for a muted, yet memorable resume design, this self-proclaimed Best Resume template by The Good Docs hits this requirement. Featuring a purple sidebar and text highlights, this resume template instantly draws the eye to your skills and any other type of information you'll decide to spotlight in the sidebar area. 
3. Simple Google Docs Template in Swiss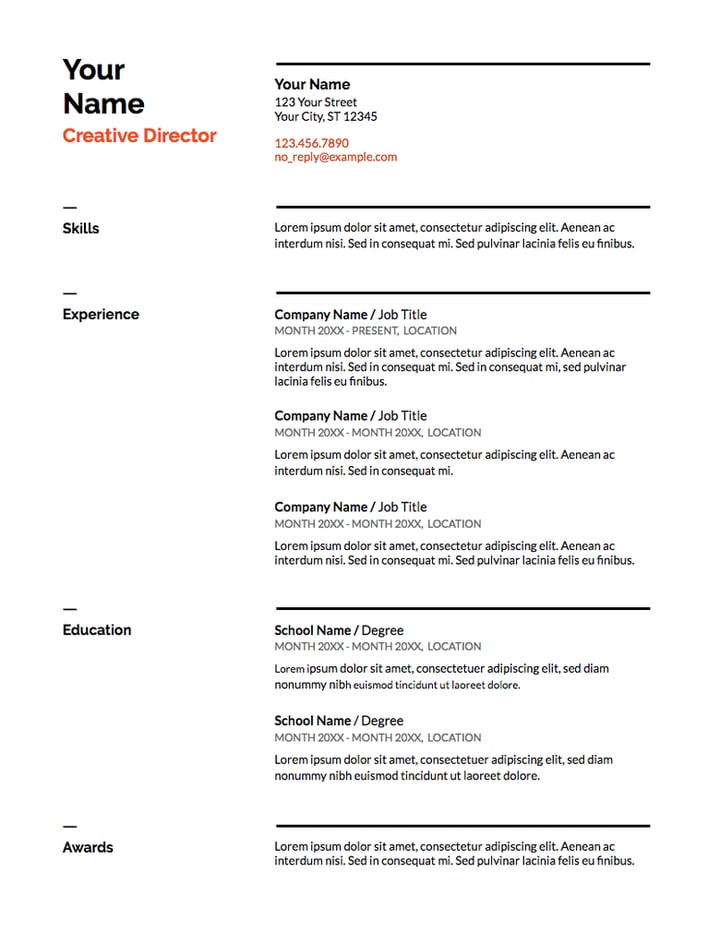 Are you after a job in a more traditional industry? Then you'll probably like this no-gimmicks Google Docs resume template from The Muse team. It is a corporate-friendly, but effective resume design that progressively leads the reader's eye from your skills to work experiences, education, and any extras like awards, training, interests, or main skills that you could place in the bottom-most section. 
4. Minimalistic Google Docs Resume Template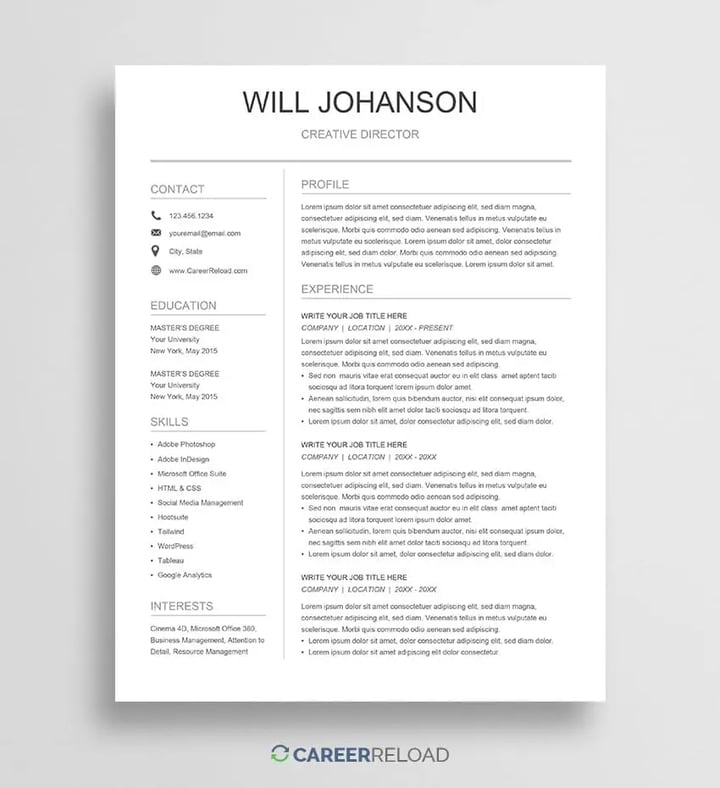 Here's another no-frills option for people who value simple resume designs. This black and white resume template from Career Reload skips graphical elements to provide you with more space for listing all your career details — from your most marketable skills and core competencies to nice-to-have add-ons such as interests and a professional bio. 
5. Limita – Light Professional Resume Template For Google Docs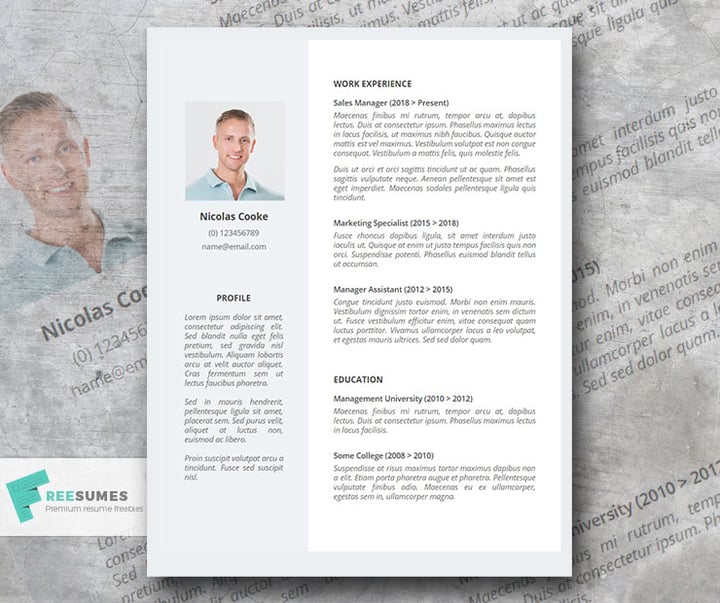 Want to stand out without being too bold in your color choices? In that case, go for the Limita Light Professional, another great option from the Freesumes' collection of Google Docs resume templates. An attractive pale blue border and sidebar area make this design naturally pleasing to the eye. Italics fonts (which can be switched up easily) give it some extra creative flair. This is a solid choice for candidates who want to communicate their calm, composed, and creative personality to prospective employers. 
6. Bold Google Docs Resume Template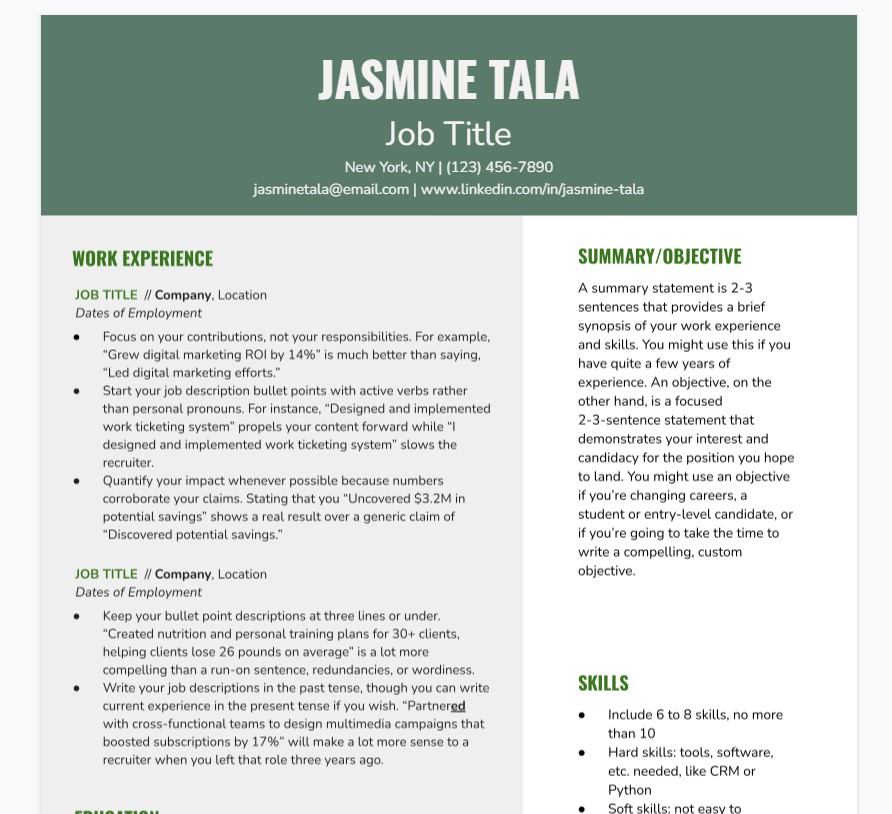 As the name implies, this free resume template for Google Docs uses a rich emerald green color to accentuate the main resume sections — header area, work experience, education, skills, and certifications. The two-column design also helps pack more information in your resume without making the document look "crowded" or hard to read. You can also easily add extra work entry sections if you use fewer or shorter bullet points. 
7. Classy Free Google Resume Template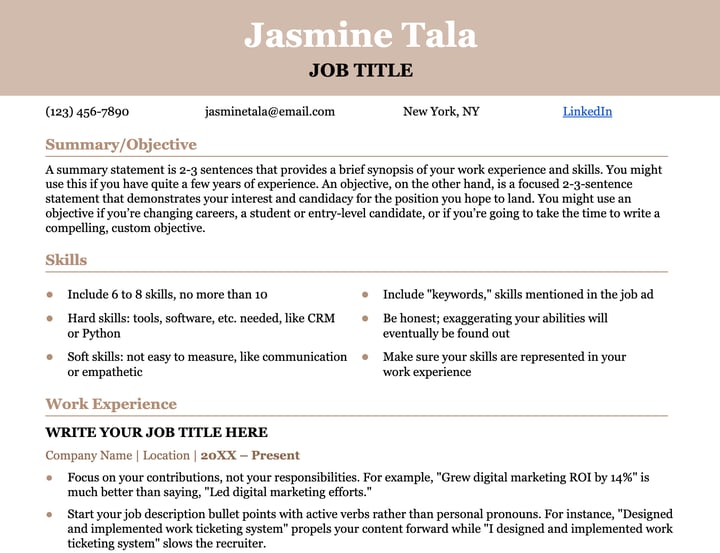 Those in favor of simple, yet professional resume designs, should check out Classy resume template. It's on a more traditional end of the spectrum layout- and color-wise. Still, the ashy pink color, used for highlights, adds some memorable flair to it. This is a great option if you want to slightly stand out with your resume design without appearing too flashy.  
8. Elegant and Modern Google Resume Template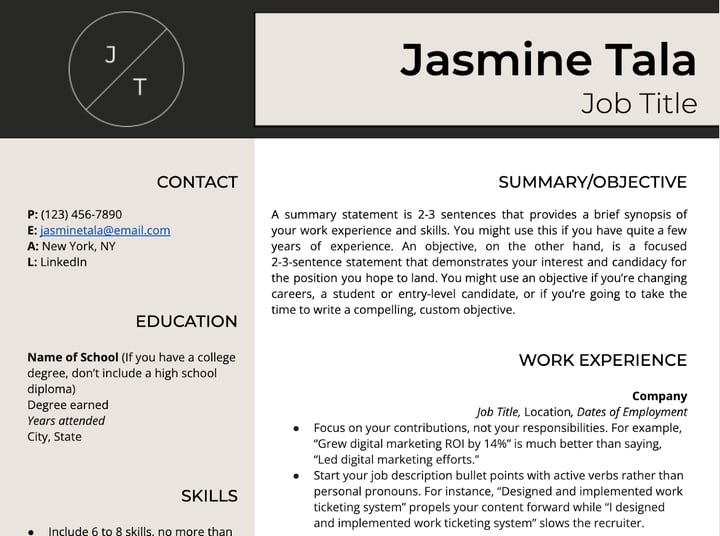 Younger folks will likely appreciate this hipsterish design of Elegant Google Docs template. The muted color choice feels modern and sleek. Plus, it slightly reminds me of the urban lofty design aesthetics, popular among startup office spaces and coffee shops, catering to the folks working in them. Otherwise, this resume looks classy, but with a slight twist. It places the Education section on the sidebar to save some space for longer work experience entries. 
9. Orange Resume Template for Google Docs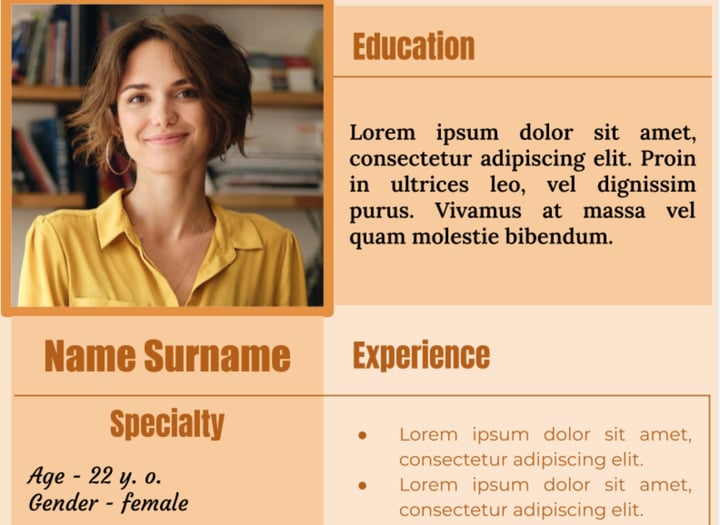 Do you have a big, energetic personality and want it to come across in your job application? In this case, try out this Bright Orange resume template. Featuring a headshot in the header area and interesting fonts, this resume design is guaranteed to be one of the most memorable ones. A slight disadvantage is that this template uses a big font size. But you can easily adjust that if you need to accommodate a longer work experience section. 
10. Sylvie Rock: Minimalistic Google Resume Template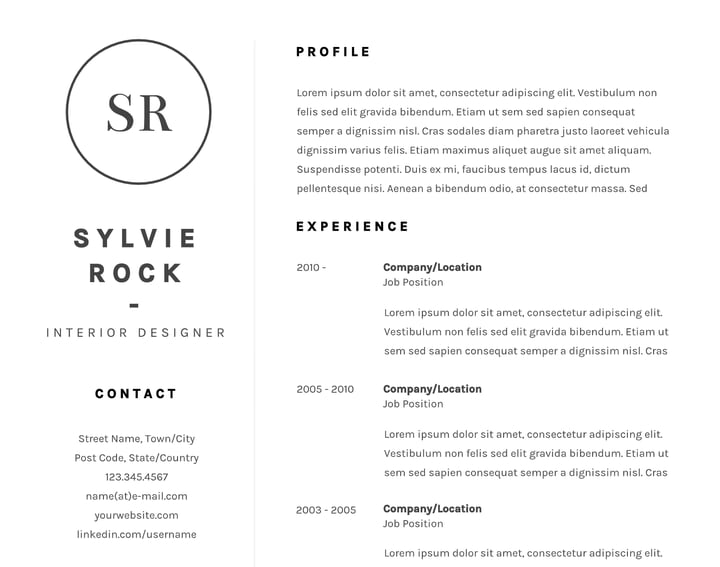 Fancy a simple, but professional-looking resume design? Sylvie Rock template is the epitome of it. Completely black and white, yet highly sophisticated this Google Docs resume template can be easily customized for a bunch of industries. Additionally, you can swipe the Education and Skills section from the current layout to get an even more classical chronological resume look.  
11. Robert Kasem: Professional Google Resume Template 
This Google Docs resume template is the perfect choice for recent graduates and entry-level candidates. It comes in two layouts. One where you can prominently feature your education and a resume objective statement. And the second one, where you can highlight a list of your most marketable skills, plus professional references. Both are excellent for creating functional resumes. 
12. Free Creative Google Docs Resume Template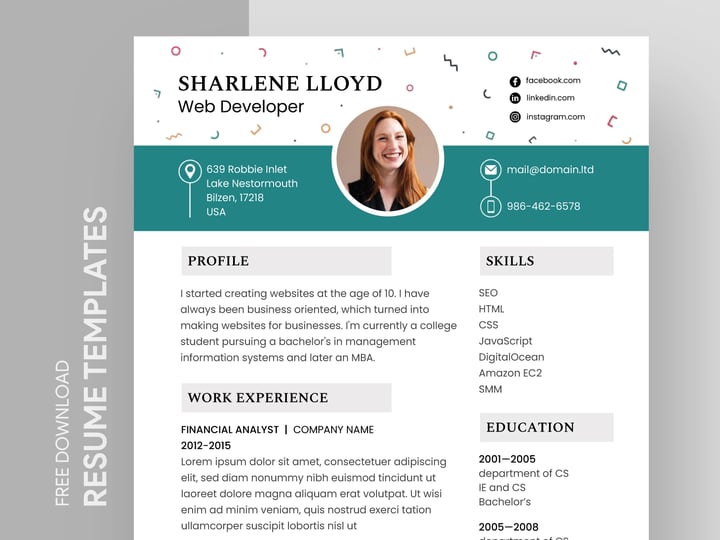 Want to show your funkier side? Then give this creative resume template a go. It has a vibrant header area where you can fit in your personal social media handles and website, plus contact details. Next, you get plenty of space to fit in your skills, work experiences, education, and some personal extras in the profile section. Overall, it's hard to get your resume layout wrong if you use this template. 
How to Use Your Google Docs Resume Template
Everyone loves Google Docs for its simplicity. You don't have to do much to get going. This also holds true for customizing a Google Docs resume template you'll select.
In each case you have to do several things:
Open the provided Google Drive link
Then go to File > Make A Copy
Save a private copy on your Google Drive
Start editing the template!
The beauty of Google Docs is that all your changes are saved automatically. So if you need to quit at any time, you don't need to be worried about unsaved changes. Likewise, you can easily Undo changes with a click. Or roll back to an earlier document version if you don't like how the customized version ended up looking.
But arguably the biggest boon of using the Google Docs resume template is that you can easily share your resume with just anyone. Adjust access permission to "Accessible to Anyone" with a link and confidently send a copy of your resume to a recruiter, staffing agency, or a professional resume writer for the feedback!